Time Out Camper above has 16 cubic feet of cargo with 8" wheels...
Below is the Deluxe has 22 cubic feet of cargo with 12" wheels...
Karen and Fred Burger take great pride in answering any and all questions you may have on any trailer that we sell or possibly other trailers also. We are the ones who answer the calls and take your order...
We know that for most people, it is not possible to see trailers up close or to compare the products... This is why we offer you this site with huge amount of photos so you can compare...

We can drop ship trailers anywhere and will be with you from time of purchase to after you receive it. We love happy customers and this is why Karen and I go the extra just as if you were at our place... My daughter Teresa is now here to help also.

We listen to customers needs and help you with your trailer selection...

We want your purchase to be informative, enjoyable and memorable...

We will tell you if a option is a good value or maybe not needed at all, because we want you to be happy with the trailer for many years to come...

We are the number one drop shipper of trailers all over the USA and Canada and strive for 100% satisfaction and will help you out after the sale should you have any problems...

We strive for you, the customer, to be sure you get your product correct the first time, on time, every time...
We must take all orders over phone... Web sites are not secured... Karen, Teresa or Fred Burger are the only ones who will take your order...
We May ask questions to inform you of all options that is available and which one works best. This is why we have done it this way successfully since 1982... .
We specialize in making your internet sale a pleasurable experience... We know that most folks are unable to see trailers up close and personal... That is why Karen and I will spend all the time that is needed to answer your questions both before and after the sale...
We Promise to make you a happy camper, or a cargo carry person, knowing it will go where its towed to...
We have trailers for the big bike and small cars... Can also be used for jeeps, hot rods and ATV... Camper, cargo, utility and motorcycle carry trailers are our specialty...
We are not the best because we are the oldest... We're the oldest because we are the best... Going above and beyond to help customers...
We take great pride in shipping trailers to Canada and all across the USA...
All trailers and most parts on this site are USA made...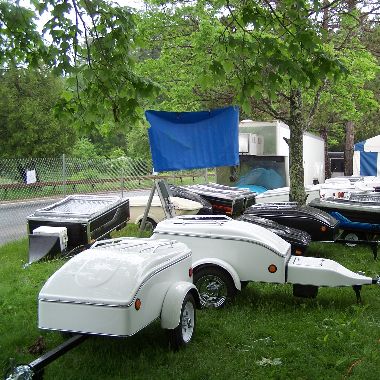 Note's

for menu buttons right side:

Each trailer will have full information about it including size, colors and dimensions.

All prices of trailers & all options will be on price button page only. 3rd button down.

Specials will be on top of price page.

Motorcycle riding tips, camping tips, Buyer beware info and what to expect when trailer comes or any package for that matter with what to do if damaged.
Click on "Price List & Options" 3rd button down on right.
Specials on that page...
In Stock:
5 Deluxe black with black/grey stripe... 1 with electric brakes...

1 Deluxe white with black/grey stripe white wheels...

1 Camper "Big One" black/grey stripe...

1 Dart white with white wheels...
hank You and see you on the next page... Fred Burger...